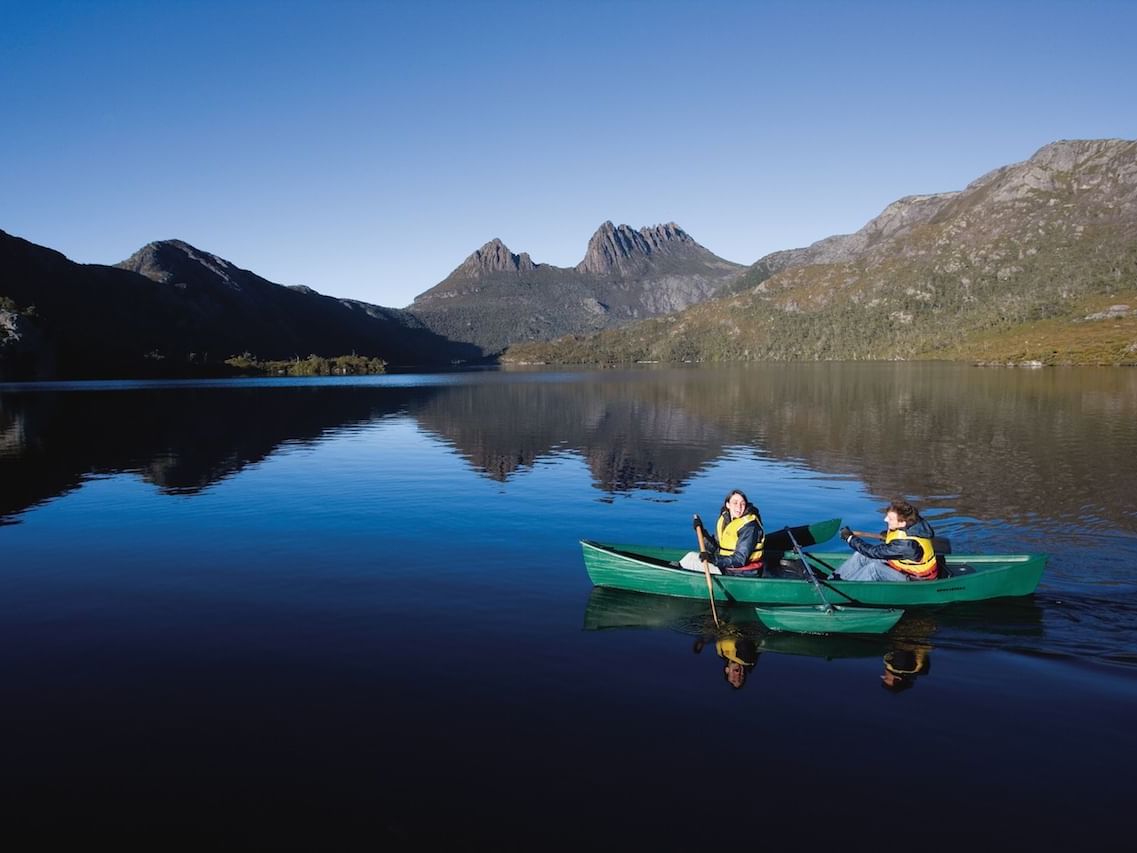 Dove Lake
Dove Lake is one of the best-loved and most frequently visited places within the Cradle Mountain-Lake St Clair National Park.
Local pioneer, Gustav Weindorfer named the lake in 1905, after an official of the Van Diemen's Land Company. The loop walk around Dove Lake is one of the best short walks in Tasmania, and is a must-do activity when you stay at Cradle Mountain Hotel.
Carved by ice
Cradle Valley was formed by glacial activity over millions of years and at least four separate ice ages. At the peak of the last ice age, which ended around 10,000 years ago, an impenetrable sheet of ice covered the entire valley. As the ice retreated, it carved out deep river valleys and lakes, including Dove Lake, which is approximately two kilometres long and 700 metres wide at its widest point.
The retreating ice scoured and rounded off the peaks of many of the Park's prominent mountains, including Marion's Lookout and Mt Campbell. Other mountains, whose summits remained partially exposed above the ice, retained their craggy peaks—including the distinctive spires of Cradle Mountain.
Dove Lake Circuit Walk (2 hours / 6 Km)
The six-kilometre Dove Lake Circuit is a loop walk on well made, mostly boardwalk track. The walk follows the shoreline through rainforest, sub-alpine vegetation and quartzite beaches and leads right beneath the craggy spires of Cradle Mountain. Highlights of the walk include Glacier Rock—a huge monolith on the lake's eastern side that is a great spot for a photo of Cradle Mountain. The tranquil Ballroom Forest is a green and mossy cool temperate rainforest, with myrtle, King Billy Pines and sassafras trees creating a cathedral-like atmosphere. You'll also see stands of tropical-looking pandani around the lake. Found only in Tasmanian rainforest and sub-alpine areas, pandani, is the world's largest heath plant.
Towards the end of your walk, you'll come to the Dove Lake Boat Shed, on the northwestern shore of the lake. This much-photographed little shed was built in 1940 by the Park's first ranger, Lionel Connell, and used by boating enthusiasts until the 1960s. Made from King Billy pine, the shed has undergone some restoration over the years, but survives mostly in its original form.
Dove Lake wildlife
You may encounter native wildlife as you walk around the lake—watch for echidnas, wombats, wallabies and pademelons, and listen for the songs of birds in the tree canopy. You may also be lucky enough to see a soaring wedge-tailed eagle overhead.
Getting there
A complimentary shuttle bus service travels regularly between the Cradle Mountain Visitor Centre (a short drive from Cradle Mountain Hotel and two kilometres before the Park entrance) and the Dove Lake car park.
The Visitor Centre also offers National Parks Passes, maps, walking track information, souvenirs, fuel and light refreshments. Check with Reception or at the Visitors' Centre for more information.