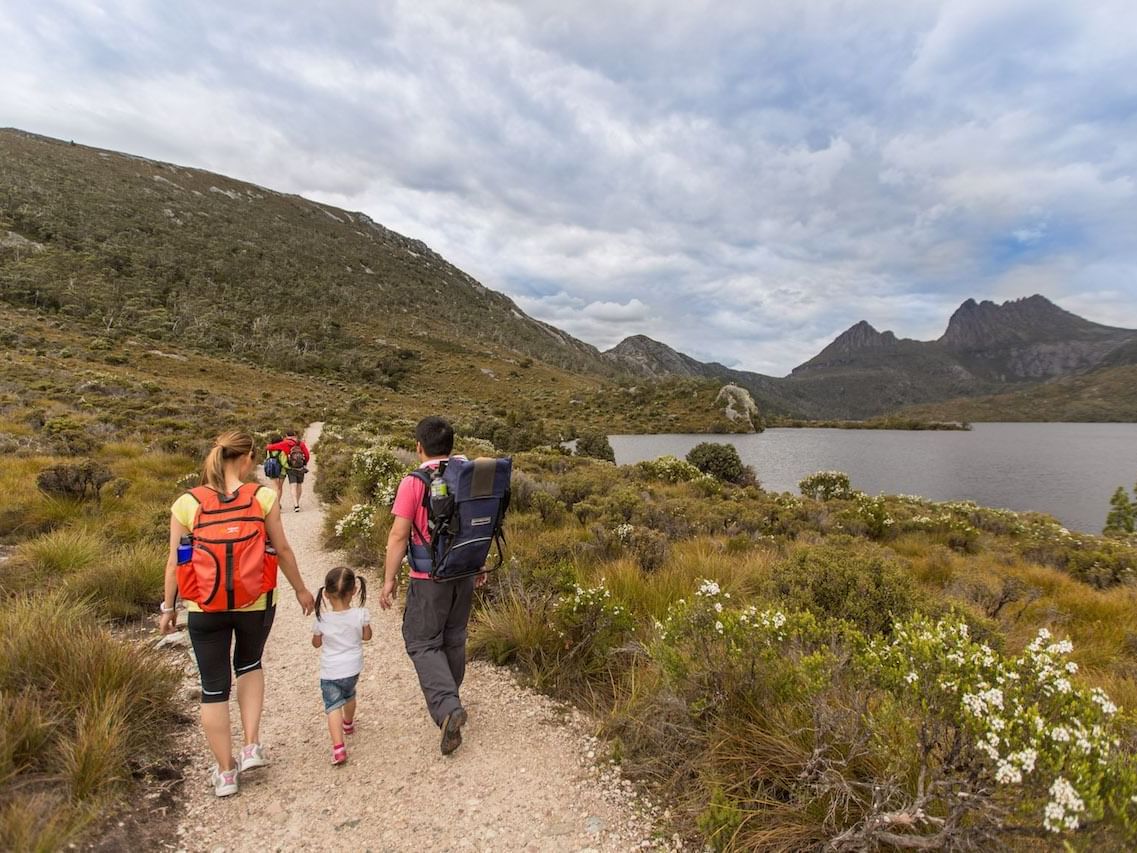 Cradle Mountain Walks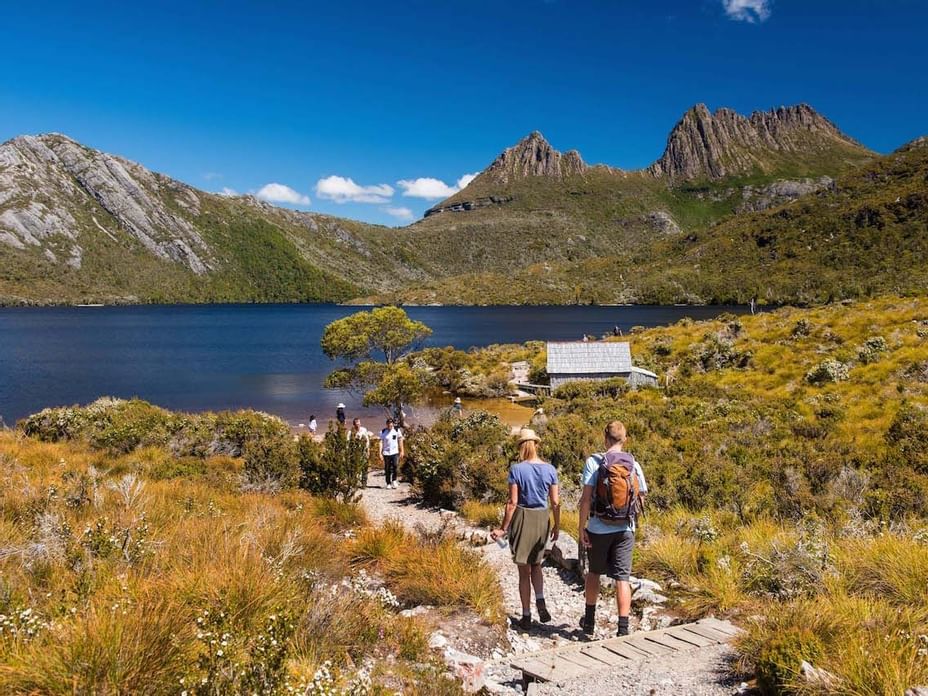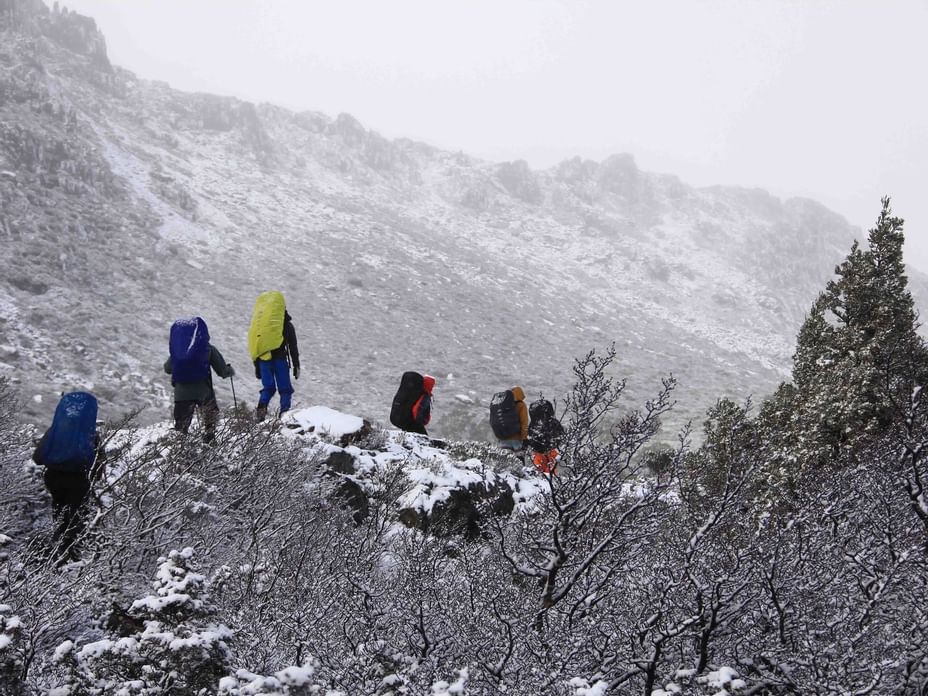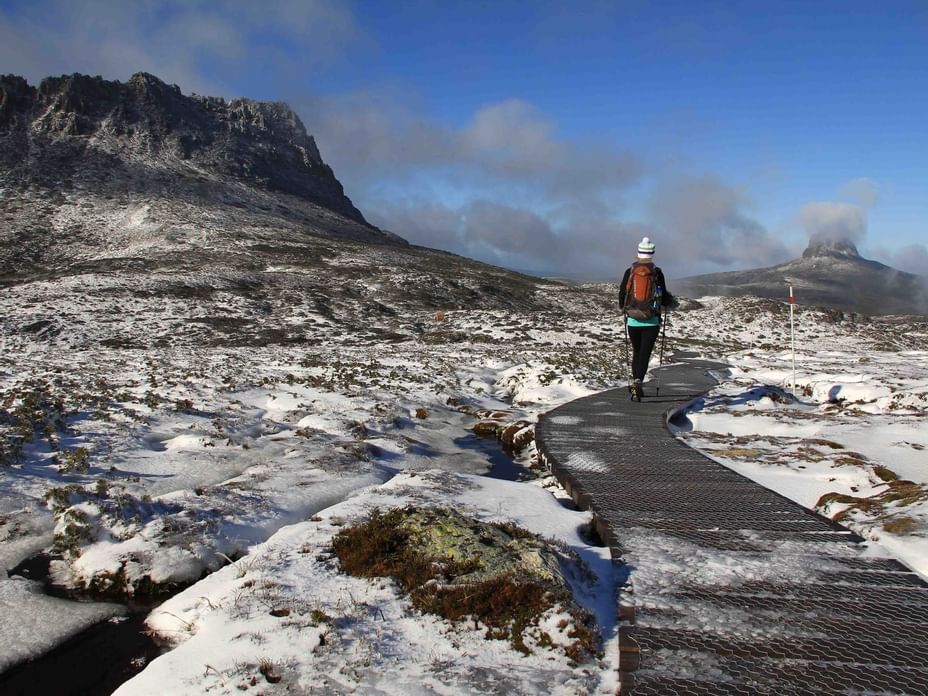 Cradle Mountain stands at the northern end of the Cradle Mountain-Lake St Clair National Park, within the Tasmanian Wilderness World Heritage Area. This dramatic mountain is comprised of a series of jagged dolerite peaks, and is thought to be named for its resemblance to a miner's cradle.
Cradle Mountain offers a wide range of walks for all experience and fitness levels— from novice to experienced walkers. Check with Reception for the best walking options, or pick up a day walks map from the Visitor Centre.
Rainforest Walk (.5 km / 10 minutes)
This loop walk begins behind the Rangers Station and Interpretation Centre, just inside the Park boundary. Take the short boardwalk through cool temperate rainforest and past cascading Pencil Pine Falls. The accessible boardwalk track is also suitable for wheelchairs.
Enchanted Walk (1 km / 20 minute circuit)
This easy, aptly named short walk begins just near the entrance of the Park, at the bridge over Pencil Pine Creek. Follow the track along the creek, through cool temperate rainforest and open moorland. Keep watch for wombat burrows, wallabies, pademelons and birds.
Weindorfer's Forest Walk (.5 km / 10 minutes)
Departing from Waldheim Chalet, this easy walk leads you through a rainforest of King Billy pines, myrtle, celery-top pine and sassafras. Take some time before or after your walk to visit the Chalet and learn about early pioneers Kate and Gustav Weindorfer.
Dove Lake Circuit Walk (2 hours / 6 km)
The Dove Lake Circuit is an easy loop walk on well made, mostly boardwalk track. The walk follows the shoreline through rainforest, sub-alpine vegetation and quartzite beaches and leads right beneath the craggy spires of Cradle Mountain. Highlights include Glacier Rock, the tranquil, mossy Ballroom Forest and the Dove Lake boat shed.
Marion's Lookout via Wombat Pool (5 km / 3 hours)
The scenic trek to the top of Marion's Lookout begins from the Dove Lake car park and continues via Lake Lilla, Wombat Pool and Crater Lake. The track weaves through stunning landscapes and provides breathtaking views of Cradle Mountain and Dove Lake. This is a medium-to-difficult grade walk, with steep sections and fixed chains to assist you along the way.
Cradle Mountain summit (15.5 km / 8-10 hours' return)
The walk to the 1545 m summit of Cradle Mountain is a challenging, full day bushwalk and should only be attempted by well-equipped, experienced walkers in fine weather. The final section of the walk near the summit involves rock scrambling and a fixed chain assist, but rewards walkers with incredible 360-degree views.
Check the weather!
Weather conditions at Cradle Mountain can change quickly and dramatically, with snow, sleet, wind, rain and sun possible at all times of year. Before walking in the Park, check the weather conditions, and make sure you are properly equipped with the correct clothing, food, water and safety equipment to suit the conditions. Check with Reception or at the Visitor Centre for more information.
Getting there
A complimentary shuttle bus service travels regularly between the Cradle Mountain Visitor Centre (a short drive from Cradle Mountain Hotel and two kilometres before the Park entrance) and the Dove Lake car park.
The Visitor Centre also offers National Parks Passes, maps, walking track information, souvenirs, fuel and light refreshments. Check with Reception or at the Visitors' Centre for more information.