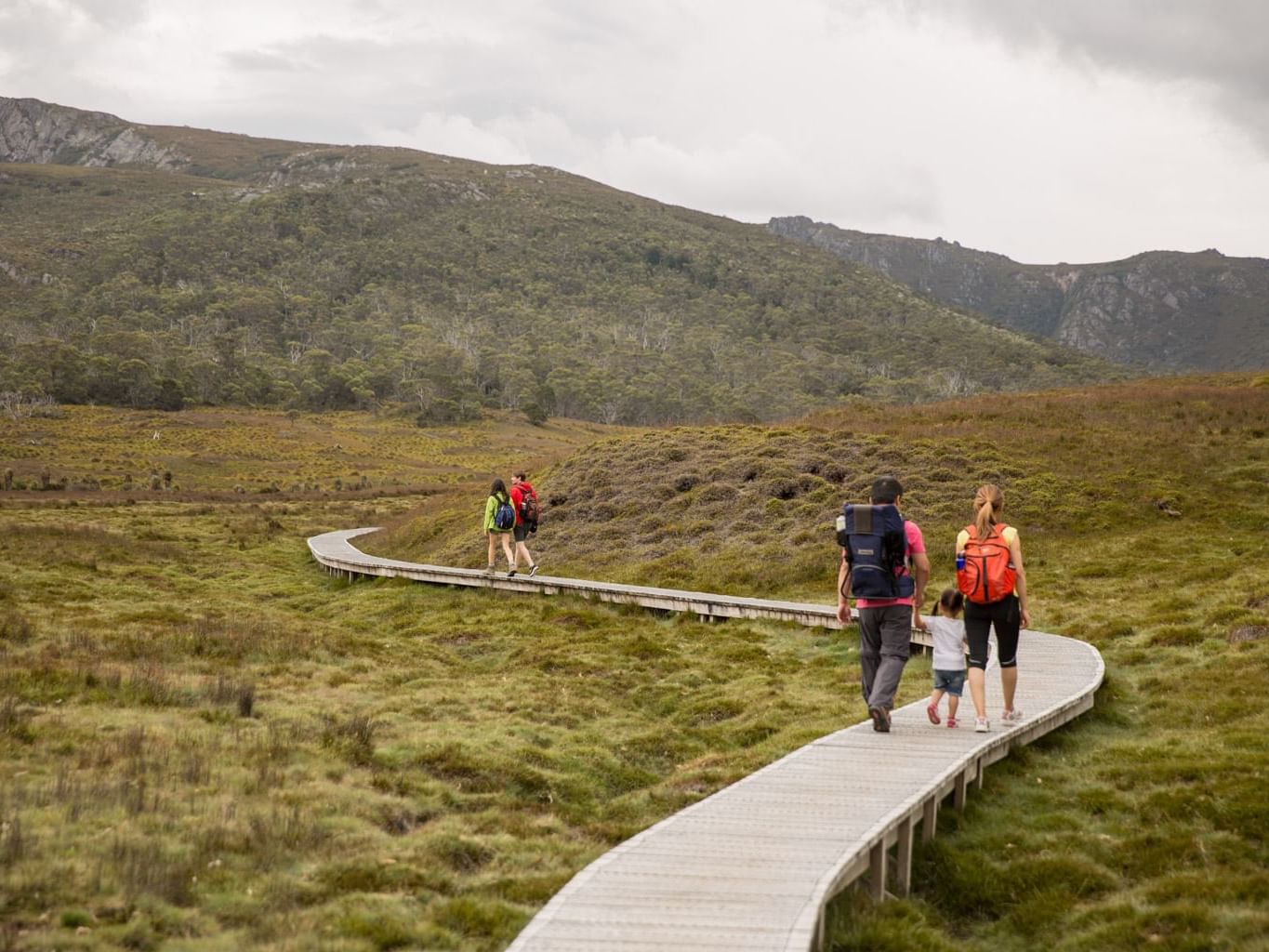 Cradle Mountain Pioneers
The human history of Cradle Mountain is more than 35,000 years old, and extends to the earliest presence of Tasmanian Aboriginal people—the most southerly dwelling human culture on the planet.
Over the centuries, many people have been drawn to Cradle Mountain, from the land's original inhabitants, to early European explorers and hunters, passionate naturalists who fought for the area's protection, and the many thousands of bushwalkers and holidaymakers who now visit this extraordinary place each year.
Early industries
The earliest record of Europeans visiting Cradle Mountain dates to the 1820s, when surveyors from the English Van Diemen's Land Company came in search of suitable grazing land for the company's sheep and cattle.
Because of the harsh climate of the highlands, settlers here were few and far between, but hunters visited the area in search of skins and meat, with a number of huts being constructed to shelter the trappers from the harsh elements. Attempts at commercial logging and mining were also made, with varying success. Today, the most visible evidence of these efforts are the walking tracks around Cradle Mountain, many of which were originally carved out by intrepid miners and foresters.
Protecting the Park
The first efforts to protect what is now the Cradle Mountain-Lake St Clair National Park were made in the late 1800s, when an area around Lake St Clair was declared a scenic reserve. But it would be the determined efforts of an Austrian-born naturalist and his wife that ensured the protection of Cradle Mountain for generations to come.
Gustav and Kate Weindorfer first saw Cradle Mountain from the summit of Mt Roland during their 1906 honeymoon. Gustav resolved to visit the area, and he, Kate and two friends first climbed to the summit of Cradle Mountain in 1910, making Kate the first white woman to do so.
It was during this trip that the vision to have a national park proclaimed at Cradle Mountain first took shape. Upon reaching the summit, Gustav declared that 'this must be a national park for the people for all time'. He and Kate decided to build a chalet, which they named Waldheim (Austrian for 'forest home'), and push for a road to be built into the area, so that people could experience the extraordinary landscapes of Cradle Mountain for themselves. Gustav and Kate began welcoming visitors to Waldheim from Christmas, 1912.
Gustav, along with friends and supporters including Fred Smithies and Major R E Smith, fervently campaigned for a reserve to be declared at Cradle Mountain. Finally, in 1922, 158 000 acres of land between Cradle Mountain and Lake St Clair was declared a scenic reserve, and Lionel Connell was appointed as the area's first ranger.
The push to protect the area continued after Gustav's death in 1932. A road to Dove Lake was constructed in 1965, and just six years later, the area was declared a State Reserve under the National Parks and Wildlife Act.
Then, in 1982, the Cradle Mountain-Lake St Clair National Park was included as part of the Tasmanian Wilderness World Heritage Area, ensuring its protection 'for the people, for all time.'