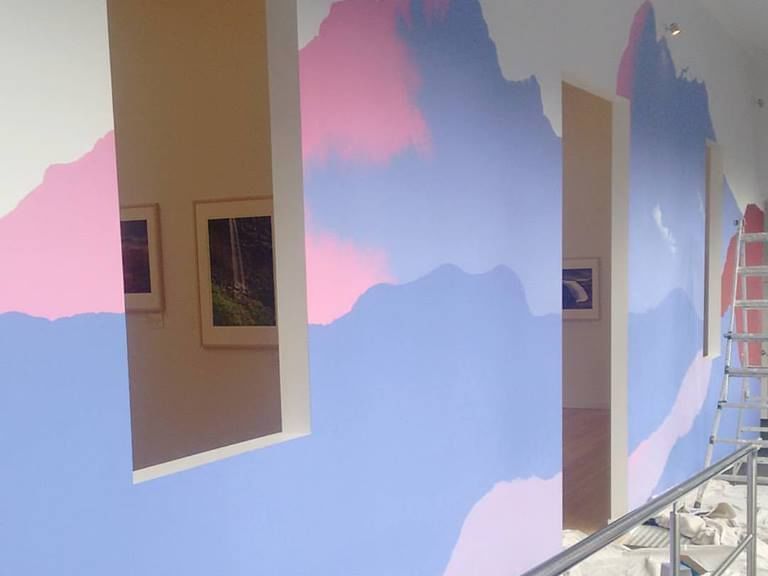 Cradle Mountain Wilderness Gallery - Update
Redevelopment of the Wilderness Gallery has begun under the trusted guidance of Curator and Arts Manager, Kylie Eastley. While Kylie would love to wave her magic wand and have the new spaces finished instantly it is going to take a little time, but it'll be worth it. We can't wait to share the new look shop and gallery with visitors soon.

While there is a lot of work to undertake, visitors can already see some significant changes. A colourful new mural designed by Launceston artist, Darryl Rogers has been installed along the gallery hallway by painter, Sam Fenton. The vivid colours reflect those within the local environment. It is the beginning of an interpretive walkway that will provide visitors with a glimpse into the history, life and art throughout Tasmania.

The next step is to repaint and remodel the shop. It'll be all hands on deck to make this all happens in only a few days, so this will mean that the shop and gallery will be closed from Tuesday to Friday (inclusive). We are sorry for any inconvenience to visitors to the property, but we would love to invite everyone to experience the new Wilderness Gallery on their next visit.

Two new exhibitions have been set up including Small Wonders by Tasmanian photographer, Arwen Dyer and an Ecclectic Collection, which draws on works from the immense photographic collection that is housed in the gallery. These are large, textured photographs of the coast, bush and mountains across the state. Our first resident artist, Jon Kudelka is busily preparing for his tenure which begins on 8 December. This will be a wonderful opportunity for visitors to watch the artist at work and discuss the motivation behind his drawings that are commentaries on life, love and politics.

It's an exciting time for Cradle Mountain Hotel and a new chapter for this important gallery. You can join us on the journey by staying connected via the Cradle Mountain Hotel or Wilderness Gallery Facebook page and website.
It's certainly a time to WATCH THIS art SPACE!
*Big thanks to artist Sam Fenton for the use of these images.